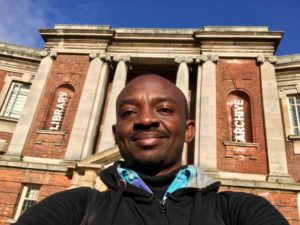 Jim Joel Nyakaana
Jim Joel Nyakaana started out as a wedding photographer as he practiced accounting as a profession. This allowed him to travel to many parts of Uganda and experience other cultures and people from different ethnic backgrounds. He later dropped his accounting profession to focus on his passion for storytelling.
Jim Joel takes the urban environment as his studio and its architecture and people as a medium to tell stories. He loves strolling in city streets and, like a voyeur, create moments. He sees cities as places of passage for cultures and people, a concept of urban living.
"Making pictures is for me, an aesthetic reaction to being a historian, an artist and a storyteller living in the city. Using the Light, shadow, geometry and human presence of a single moment, I create an image that captures time, and archives the present for the future".